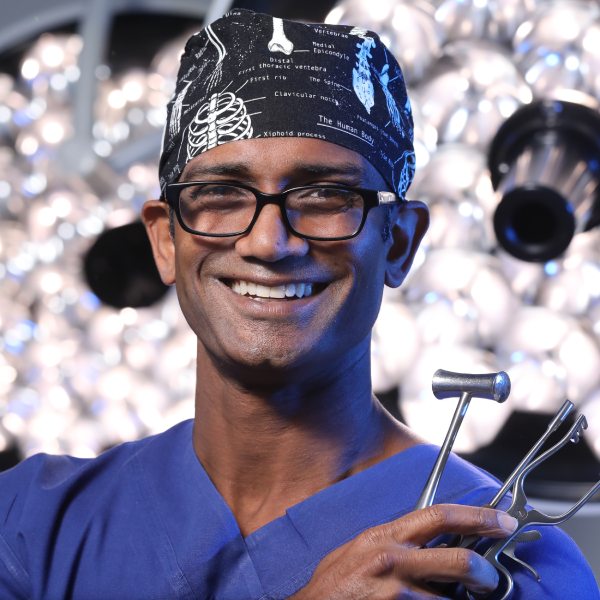 Dr Jonathan Herald
MBBS, MSpMed, FRACS (Orth), FAOrthA
Dr Herald specialises in surgical treatments for shoulder, knee and elbow conditions as well as work cover orthopaedic injuries and third party (motor vehicle accident) injuries.
Dr Herald has treated some of Australia's best-known athletes in the fields of swimming, soccer, NRL, Rugby and cricket.
Dr Herald has 20 years' surgical experience and also brings the very latest solutions straight from the playing field, such as cryotherapy and Synvisc.
He  holds a Bachelor of Surgery, a Bachelor of Medicine and a Masters in Sports Medicine;  and was recently a reviewing surgeon (orthopaedics) for the British Medical Journal.
Dr Herald will go the extra mile to ensure all urgent patients are seen within 7 days.
He is happy for your GP to call him direct on his mobile and performs "No Gap" surgical procedures for aged pensioners.
Dr Herald operates at Strathfield Private Hospital, East Sydney Private Hospital, The Sydney Private Hospital and Campbelltown Private Hospital.
Education
Dr Herald attained his Bachelor of Medicine at the University of Sydney in 1996; and his Masters of Sports Medicine at the University of NSW in 2000 after winning the Royal Prince Alfred Hospital Oddbins Prize for Grand Surgical Rounds in 1999.
He further trained in elbow surgery at The Mayo Clinic, and shoulder surgery at The Mt Sinai School of Medicine.
Memberships & Achievements
Fellow of the Royal Australasian College of Surgeons (Orthopaedic Surgery)
Fellow of the Australian Orthopaedic Association
Member of the Shoulder and Elbow Society of Australia
Fellow of The Indian Orthopaedic Research Group
Australian Defence Force Orthopaedic Surgeon 2013
Key Opinion leader on www.VuMedi.com, the international online education centre for surgeons
Examiner for Basic Surgical Training Clinical Examination Orthopaedics 2011
Former Conjoint Associate Lecturer in Orthopaedics (UNSW) 2011
Top Scoring Student – Medical Defence Union Elective Bursaries Competition 1994
Areas of Interest for Dr Herald
ACL Reconstruction
Arthroscopy
Arthritis of the elbow, shoulder and knee
Cartilage Resurfacing
Elbow dislocation
Elbow surgery UCL transposition
Fractures (emergency appointments)
Frozen Shoulder
iPain  – smart phones and technology
Knee replacement
Meniscal Repair
Menopause related joint pain
Nerve Entrapment
Patellar tears and instability
Rotator Cuff Injury
Runner's Knee
Shin Splints
Shoulder Replacement
Shoulder tears and instability
Sports Injuries
Swimmer's Shoulder
Tennis Elbow
Throwing Injuries
Work Cover injuries
Comprehensive Orthopaedic Fellowships in Sydney
Welcome to Orthoclinic Fellowship programs available to international orthopaedic surgeons.
Educational Goals and Characteristics
The fellowship is principally concerned with the teaching of orthopaedic aspects of shoulder, elbow and knee surgery. Experience in this area includes arthroscopic reconstruction and joint replacement.
The fellowship involves working at East Sydney Private Hospital, Strathfield Private Hospital, Sydney Private Hospital and Campbelltown Private Hospital with our surgical team.
The fellowship also involves attending department x-ray and clinical meetings, outpatient work, journal clubs, preparation for operations, and with assistance, consulting at Orthoclinic private consulting suites.
The fellowship develops surgical experience through private assisting and supervised operating. The fellow develops full responsibility for surgery at approximately one operating list per fortnight.
The fellow is exposed to approximately 20 surgical procedures per week.
Research is an integral part of the fellowship and clinical based research projects are ongoing at the clinic. The applicant is expected to publish at least one clinical paper every 6 months.
Prospective applicants should aspire to sub-specialist shoulder, elbow and knee surgery.
Requirements
Applicants must have completed their training in orthopaedic surgery.
Applicants must hold or be eligible to hold or be able to obtain a a current certificate of registration to practice medicine in the state of New South Wales, Australia.
Applicants must provide their own medical practice indemnity insurance.
As this is a clinical fellowship, good internship skill and English language are required.
IELTS pass of 7 in all four components is mandatory.
How to apply
Applications, including a current curriculum vitae and the names and email
addresses of three referees should be sent to:
Kelly Apps
Practice Manager
Orthoclinic
Suite 118, Level 1
4 Hyde Parade
Campbelltown, NSW, 2560
For more information on orthopaedic fellowship opportunities
Dr Jonathan Herald Profiles and CV
Make a booking with Dr Herald today.