Knee Urgent Injury Clinic FAQ 
Can I get in earlier as an urgent orthopaedic knee patient?
Dr Herald caters for urgent knee injuries as well as acute worker injuries. 
He leaves a number of dedicated urgent times slots free for these patients every week. 
From Olympians, football teams and elite athletes, through to injured workers, teen sports players and weekend warriors, Dr Herald is committed to providing the gold standard of service at his acute shoulder clinic and provides:
Rapid access to treatment and imaging with a call from your GP 
Early treatment slot so you can return to sport faster 
Accelerated patient recovery protocol such as the NEER protocol as featured by Rugby legend Adam Ashley Cooper here.
What orthopaedic knee conditions do you treat in the urgent clinic?
Orthopaedic injuries can be sudden and acute as a result of a car accident, worker injury or fall or as a result of sporting injury or complications from a previous surgery. 
Here are some of the common injuries we see every week in the urgent clinic:
Fractures

Dislocations 

Tendon Ruptures 

Infection 

Swelling or inflammation 
When should I go straight to the hospital?
In some cases acute orthopaedic trauma requires an ambulance and the patient should go to the ER right away if there has been:   
A loss of consciousness or blackout, dizziness or knock to the head  

A compound fracture that breaks through the skin 

A continuous bleed from a deep cut.

In general it is better to see us soon than later for urgent injuries 
How do I know if I am suitable for this clinic?
If in doubt, call us. 
Generally speaking any patient in severe pain who has been told by their GP to seek immediate orthopaedic care can come to the urgent clinic.

We also reserve spots for workers who have been injured.
What are the no gap and self-pay options for knee replacement surgery?
To avoid waits of over a year in the public system, Dr Herald now offers self-funded knee surgery in the private system see payment options

here.

 

For patients who have private health insurance with HCF, Bupa, Medibank Private, Westfund on DefenceHealth, Dr Herald offers a no gap joint replacement fee (shoulder and knee) service for his fee, for patients who have their surgery at East Sydney Private Hospital. 
This also includes no gap fee for the anaesthetist and physiotherapy performed in your home. Find out the short stay no gap program at East Sydney Private Hospital here.  
How do I change a knee dressing after surgery?
Key points to remember here:  
Keep all dressings dry. Tape a garbage bag onto knee for showering  

After 24 hours, remove outer pressure bandage with gloves and washed hands

After that remove the padding to reveal clear waterproof dressings which should not be removed

Any sign of pus or redness contact Dr Herald's rooms immediately or see your GP.   
Please watch this video  where Dr Herald discusses how to change a dressing after surgery and the red flags to watch for after surgery.
What foods are good to eat after knee or shoulder surgery?
Vitamin C helps boost immunity, (think oranges and strawberries) 

 Calcium is a crucial building block for strong bones (milk, yoghurt and cheese) 

Vitamin D helps us absorb calcium (think fatty fish, tuna, eggs and cheese)




The combination of zinc, protein and Vitamin C helps wounds heal faster. Meat, dark poultry and oysters suffice for zinc.

Omega 3 has anti-inflammatory effect after a procedure – (think salmon and tuna). 

After your procedure medications can slow bowels down – (think fibre foods such as oats and wholegrain breads)…
How should I manage my pain after knee surgery?
It is important to follow Dr Herald's advice on pain medications as not taking pain medications can slow the pace of recovery (pain meds reduce inflammation). 

Remember not to drive until you are no longer on any pain medication. 
Dr Herald will give you post-up protocol to follow. This can be found here.
Good questions to ask Dr Herald about your knee surgery
Do I have risk factors that would make a surgery less effective?

Will I have a brace?

How much work will I miss? 

When can I drive? 

When can I lift heavy objects, shopping or grandchildren? 

When can I start bending my knee and crossing my legs? 

Will I get arthritis?

When will I be able to put weight on my knee?

I have private health insurance. What is your no gap replacement program for shoulder and knee surgery.

How long should I continue anti-inflammatories and pain medicine for? 

How long should I do physiotherapy for? 

When is my next follow-up with you? 
What does my knee pain mean?
Here is a simple chart of common knee pain.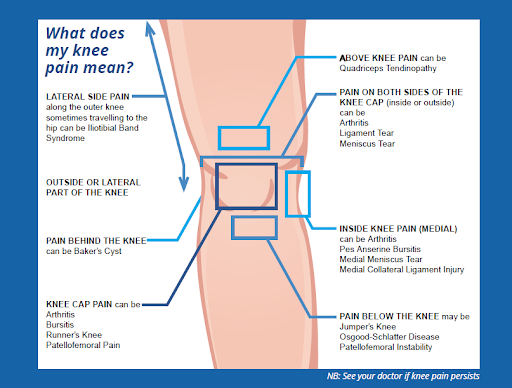 Courtesy of Dr Jonathan Herald